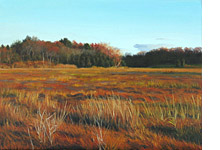 Raised in a rural New England town, Ruth Susen Riley spent her childhood surrounded by its physical beauty and made her connections with that landscape deep and lasting. As a child, she roamed freely with her brothers outside in the uninhabited acres around her home. Summer vacations were spent at the southern Maine coast and then upstate near Moosehead Lake. Her parents instilled within her an abiding love for the natural world. Ms. Riley's images have consistently reflected the natural cycles and forms inherent in the landscape and climate of the Northeast U.S.
Making art from an early age, her route to a career in the visual arts took a few detours. Growing up in the 1960's and developing a keen social conscience, she chose to follow her need to involve herself in the affairs of humankind by obtaining a BS in Social Work. This journey took her to Oklahoma and Texas where her horizons were literally and figuratively expanded. It was in this environment that she grew into adulthood, became acquainted with Jungian Psychology and the Christian mystics and subsequently returned to school at the University of Oklahoma School of Fine Arts in Norman, OK. There she studied under artists such as lithographer James Pink; serigrapher Dan Kiascz; and Art Historian Susan Caldwell, Ph.D.
After several years of work in printmaking and painting, Ms. Riley returned to the East where she pursued her ambition and established her own studio. She taught and developed an art curriculum for 12 years at a private school as well as giving individual studio instruction and coordinating an after school program of creative workshops for children. Education has been an ongoing process for her through the institutions of Montserrat College of Art, Beverly, MA; the School of the Museum of Fine Arts, Boston, MA, and Massachusetts College of Art, Boston.
Ms Riley's work has been shown throughout the United States in galleries in Chicago, New York, the Butler Institute in Ohio, the Downey Museum in California and numerous other venues. Her work is included in private collections throughout New England, the U.S. and Europe, and in corporate collections in New England.
The narrative has always been and continues to be integral to her image making. Exploring the psychological, spiritual and physical connections humans have with the natural world has been the theme of her work for years. Her deep concern with environmental issues is also reflected in these images. Ms. Riley currently works in her studio in Newburyport, Massachusetts.